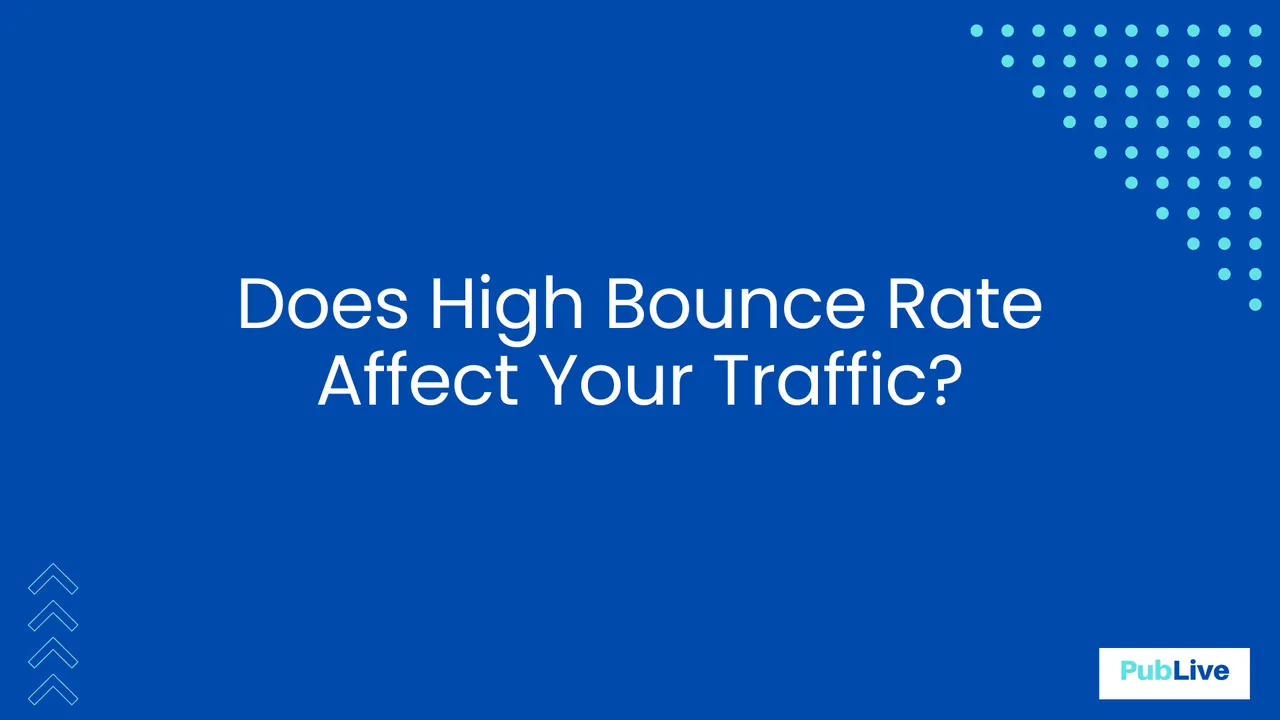 In this article, you'll get to know more about:
What is the Bounce Rate?
How is the bounce rate calculated?
Bounce rate vs Exit rate
Does a high bounce rate are problematic?
How does the bounce rate impact the Website traffic? 
How to reduce the bounce rate?
What is the Bounce Rate?

Bounce is a single-page session of the visitor on your site. Bounce rate is the percentage of visitors who leave your site after viewing only one page on your site or without performing any desired action like clicking a link, viewing a video, etc. It typically impacts website ranking and visibility in search engine results. 
How is the bounce rate calculated?
Bounce rates are calculated as mentioned below,
Bounce rate = Total number of one-page visits /  Total number of visitors
Example
Total number of visitors to the site - 1000 
Total number of visitors who leave the site after viewing one page - 200
Bounce rate - 200 / 1000 = 20%
You can evaluate your website using Google Analytics to identify the bounce rate, page visits, and other metrics for each page
Bounce rate vs Exit rate
Exit rate is the number of visitors who exit a website from a specific page. The only difference between bounce rate and exit rate is that exit rate doesn't mention if a visitor has viewed any other pages or not.
Does a high bounce rate are problematic?
It depends on the structure of your website.
Having high bounce rates may not be a problem all the time, but it depends on the website structure. For example, if the website is a single page with articles like blogs then a high bounce rate is perfectly acceptable. 
If the website has more primary pages, but the visitor tends to leave viewing only the landing page without clicking a link or viewing other pages, then in this kind of scenario high bounce rate does affect the ranking and visibility. It may be due to many reasons such as visitors didn't find what they are searching for, not having a user-friendly website, slow page loading, irrelevant ads, low-quality content, etc.
Hubspot has provided a bounce rate benchmark for different structure/site categories, this might help to compare and evaluate your website bounce rate better.
Benchmark Averages for Bounce rate
Content Websites - 40 to 60%
Lead Generation - 30 to  50 %
Blogs -  70 to 98%
Landing Pages - 70 to 90 %
Overall the average bounce rate across the industries is 47%. 
How does the bounce rate impact the Website traffic? 
A website can have high bounce rates due to the following reasons 
Slow page load
Quality Content 
Lack of Call-To-Action 
Not visually appealing
1. Slow page load
A slow page load can cause a high bounce rate that results in less website traffic. Google focuses primarily on the load speed of a page to evaluate the site's performance. Visitors expect to receive results as fast as they can, if the content or image takes time to load they lose interest and leave. 
2. Quality Content 
Visitors expect to see something when landing on your website, but if the content or the information that they are looking for is not prominent then the bounce rate increases. It includes advertisements, information, and Call-To-Action (CTA) all need to be relevant to the site's intent. This affects the traffic and ranking of the site easily.
3. Lack of Call-To-Action (CTA)
Guide visitors with proper CTA, easy steps will help them navigate through the website and what to do next. For example, after the product description give them the proper link for purchase, and if it is a blog, provide subscription options, etc. If these are hard to find, the experience will be unpleasant for them. In addition, the reference links should be trustworthy, this will determine the rank and traffic to the website.
4. Not Visually Appealing
User experience and the design of the website are highly important to increase traffic.  Layout structure, design, typography, and navigation should be easy and alluring to the eyes of the visitors to give them a pleasant experience. This is most important to reduce the bounce rate of the website.
How to reduce the bounce rate?
Best practices can help reduce the bounce rate and improve site performance and traffic.
1. Attract the right audience with the right content
Ensuring the delivery of quality and fresh content regularly will increase traffic. According to Hubspot research, 50% of visitors' time is spent on personalized content. That said, content and keywords are essential for attracting more traffic and ranking in search engine results.
2. Use Relevant Keywords
The right keyword can outperform your content marketing campaign by connecting with the right audience in search results. Keeping with the trend, using high-traffic keywords potentially attract more traffic to your website as 97% of Google revenue is through advertising expensive keywords into revenue.




Use Google Keyword Planner to get more ideas on trending keywords 
3. Attractive Meta Descriptions
A meta description is an HTML element that describes your website/web page. This is used to provide a brief summary of your website content and whether that provides a solution for what they are searching for. Ensure to include keywords in the description but remember not to stuff irrelevant keywords at the same time. 
4. Increase page load time
Page load time is a major factor to improve traffic and reduce bounce rate. As per the recent Google ranking criteria, site speed is a primary factor to evaluate any website to recommend in search engine results. 
Use tools like Google's Page Speed Insights, lighthouse to test pages, run, and fix the recommendations provided by Google to increase the speed, ranking of the website. 
5. Mobile-Friendly UI
According to the research, global web traffic is highly from mobile devices. Past six years, till the recent beginning of 2021, about 54.8 percent of traffic source is through a mobile web search and 70 percent of time spent on digital media is through mobile devices. Providing mobile-friendly websites is one of the best ways to keep visitors on a website for a longer time. This eventually reduces the bounce rate, increases traffic, and improves brand trust and information reliability. 
Use the Google' Mobile-Friendly Test tool to confirm that your site is mobile friendly or not
Overall, the bounce rate does influence the website traffic but it depends on each website's structure. Well-designed SEO compatible user-friendly websites with quality content make you stand out from the competitive digital publishers crowd attracting the right audiences. This eventually increases brand familiarity and worth through your website.